Our team here are fully qualified and always provide expert knowledge, this shows in the way in which we work and the professional out look we have.
We have recently gone on to expand our extensive range of professional services to luxury bathrooms and en-suites.
We have been trading in plumbing and heating for 16 years and as well as plumbing and heating in Maidstone we have since gone on to fit luxury bathrooms/en-suites. We have also gained professional knowledge and experience that will ensure remarkable results; our business has expanded through word of mouth and recommendations. We offer and install only the highest level of services and products for plumbing and heating, using the best quality materials and components such as Worcester Bosch Boilers that come with a 5-year guarantee. We know our customers only judge us on our last job, so we aim to exceed the expectations of every customer we deal with.
Welcome to R Webster Plumbing and Heating your local heating and plumbing business in Maidstone, Kent that thrive for customer satisfaction.
Here at R Webster Plumbing and Heating, we actively promote energy efficient products and we are always helping our customers by sharing our tips for making your home more energy efficiency and protecting the environment, while saving you money. All our experienced and professional engineers are fully Gas Safe registered, clean and efficient. The work we complete is fully compliant with latest building regulations. If you need your plumbing and heating systems repaired or is not working, you'd like to improve or upgrade your existing plumbing and heating system, you would like to have a luxury bathroom/en-suite installed or you'd like a new central heating system installed, then we'll cater to your needs and we will always ensure we leave you with the job done right.
We aim to complete all of our jobs on time with an exceptional standard ensuring you're left with a smile on your face.
We have a team of full qualified experts that supply you with their extensive knowledge to fill you with confidence.
We don't just stop after the job, we want you to contact us if you have any questions or if somethings gone wrong.
The quality of our jobs will leave you feeling extremely satisfied and we always aim to not only meet but exceed any expectations.
We don't like to waste time, if you want a job done we will always get the job done quickly but still maintaining that professional finish.
Registered with Gas Safe.
Hi-efficiency Boiler Installations & Upgrades
Central Heating Installations
Boiler Repairs
Central Heating Services
Fault Finding and Boiler repairs
Central Heating Boiler Services
Our team of experts work hard to provide a first class service for a range of services; here is a list of some of our services:
Landlord Certificates
Under floor Heating
Power Flushing
Bathroom Installations
Domestic Installations
Commercial Installations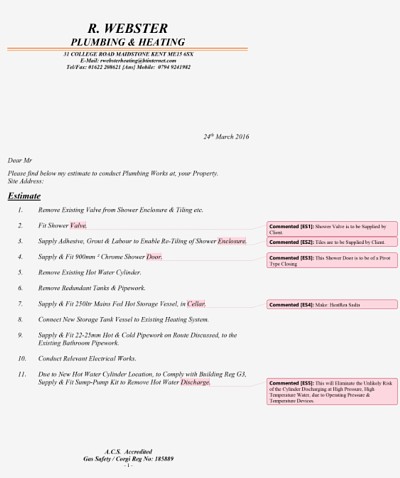 Example One: Click to enlarge
Example two: Click to enlarge
R WEBSTER
PLUMBING & HEATING
(01622) 208 621 or 0845 839 2432
31 College Rd, Kent, ME15 6SX